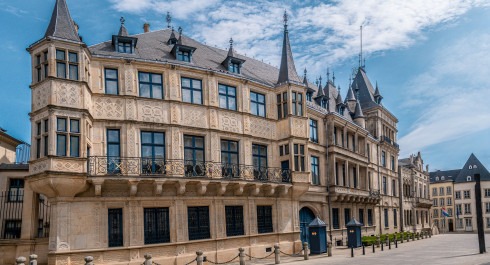 The grand ducal Palace, located in the centre of the old town, is the official residence of the grand ducal family.
The site of today's palace was once home to Luxembourg City's first town hall whose origins date back to 1418. After the town hall was destroyed by a gunpowder explosion in 1554, it was rebuilt 20 years later. In 1741, the stone balustrade was replaced by a wrought-iron balustrade that still exists today. In the mid 18th century, the town hall was enlarged on the right side by a Baroque building called "Salle de la Balance". In 1860, the Chamber of Deputies was built on the right-hand side of the building. Since 1890, the main building has served as the grand ducal Palace. From 1992 to 1995 the palace underwent extensive renovation works.
During the summer months, the Luxembourg City Tourist Office has the honour of organising exclusive guided tours of the grand ducal Palace. On this 75-minute tour, visitors can take a look behind the scenes, including the Grand Duke's office, the dining room and the "Salon des Rois", to name but a few. Through the sale of tickets, the Luxembourg City Tourist Office supports the Foundation of the Grand Duke and Grand Duchess; a foundation that supports humanitarian and solidarity initiatives to assist vulnerable people and those in distress, both in the Grand Duchy and in developing countries.
Join one of our guided tours for a "grand ducal" experience and learn more about the history of the grand ducal family!
Individual tickets:
| | |
| --- | --- |
| Adults | 15€ |
| Children from 4 to 12 years | 7,5€ |
| Children under 4 years | 0€ |
Frequently Asked Questions
We offer guided tours in French, English, German and Luxembourgish
The Palace was built in 1572-73.
The Grand Ducal Palace is used for the Grand Duke to perform his duties. The Grand Ducal family lives in Berg Castle.
The Grand Ducal Palace is located in the center of the Old Town of Luxembourg, at 17 Rue du Marché-aux-herbes.
The guided tour lasts 1h15.
Tours of the Palace are only available during the summer months.
It is not allowed to take pictures inside the Palace.
Other Monuments and places