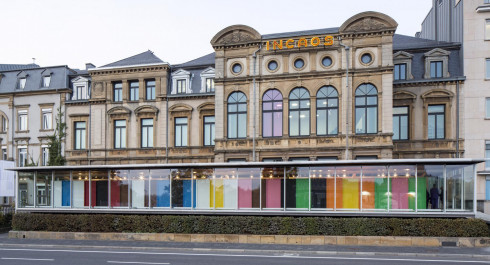 Casino Luxembourg - Forum d'art contemporain
Casino Luxembourg - Forum d'art contemporain
Ideally located in the heart of the capital, the Casino Luxembourg – Forum d'art contemporain holds contemporary art exhibitions with an international programme of mainly younger-generation artists. The art centre houses public spaces with a variety of uses and vocations, combining today's art with a warm and friendly meeting place: the ground floor, next to a bookshop and a library specialising in contemporary art, has an area dedicated to learning activities and a café-restaurant. The first floor is exclusively used for temporary exhibitions, so artists' monographs and themed exhibitions are shown here. These are completed by a varied programme of guided tours, conferences, concerts, and workshops. Far from any museological concerns, the Casino Luxembourg functions like an artistic and experimental think tank heading for the latest trends in the art scene.

Opening hours
Monday, Wednesday, Friday, Saturday, Sunday: 11 a.m. – 7 p.m.
Thursday: 11 a.m. – 9 p.m.
Closed on Tuesdays and on 1.1., 1.11., 25.12.
Free entrance