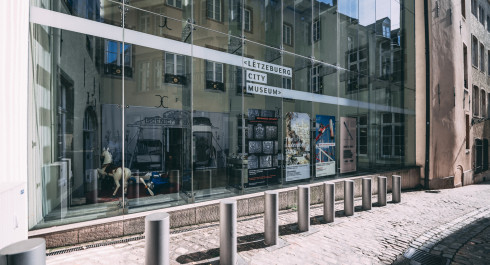 The Luxembourg Story, more than 1000 years of urban history
Lëtzebuerg City Museum, permanent Exhibition

The Lëtzebuerg City Museum presents its permanent exhibition The Luxembourg Story.

On the three lower levels of the museum as well as in a space devoted to the current town planning (2,200 m2 in total), the new exhibition tells the eventful history of the city of Luxembourg, from its origins in the 10th century to the present day. By following the chronology of urban development, divided into four major periods and 17 topics, the exhibition focuses on the most important and characteristic aspects of each epoch.
The exhibition provides local as well as foreign audiences with a concise introduction to the history of the city, with a corresponding selection of objects, films and sound documents, photographs and multimedia applications.
The "Future Outlook" section, near the museum's reception, is devoted to the organization of the urban space: a large 1:2,500 scale 3D model as well as a multitouch table allow visitors to familiarize with present and future questions of urbanism.
In addition to more than 500 original objects, The Luxembourg Story offers several interactive features for further information. The visit is complemented by new multimedia animations of the urban scale models (1:666) which illustrate the key moments of the city's history.
The topics:

10th to 18th century
The medieval town - The fortress - Citizens and soldiers - Churches and monasteries
19th century
The path to independence - The capital city - The end of the fortress - The open city - The industrial city - Trade in the city - The citizens' city
20th century
The city in crisis - Under German occupation - The European city - The financial centre - The changing city
21st century
Future Outlook
Opening hours
Tuesday - Sunday from 10 a.m. to 6 p.m. and Thursday till 8 p.m.
Closed on Mondays, except on bank holidays
| | |
| --- | --- |
| Monday | Fermé |
| Tuesday | 10:00 - 18:00 |
| Wednesday | 10:00 - 18:00 |
| Thursday | 10:00 - 20:00 |
| Friday | 10:00 - 18:00 |
| Saturday | 10:00 - 18:00 |
| Sunday | Fermé |
| So | 10:00 - 18:00 |