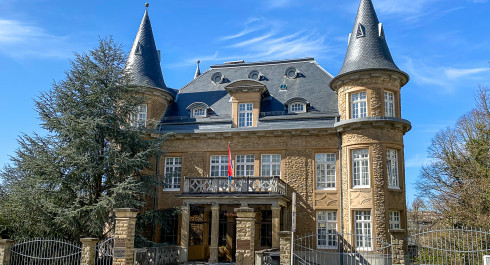 During the Nazi occupation of Luxembourg (1940 – 1945), the Villa Pauly served as the headquarters of the Gestapo, the secret police of the Nazi regime. Apart from the Villa Pauly, the Gestapo had outposts in Esch-sur-Alzette (Villa Seligmann) and Diekirch (Villa Conter). Behind those walls, many women and men, resistance fighters and others, were detained, interrogated, and tortured.
Furthermore, it was here that Nazi authorities helped orchestrate and execute the deportation and the extermination of the Jewish population living in Luxembourg.
The Villa Pauly was built in the 1920s for Dr Norbert Pauly by the architect Mathias Martin. In 1960, the Luxembourg state acquired the building. In 1989, the Villa Pauly was listed as a national monument.
The Villa Pauly is the seat of the "Comité pour la mémoire de la Deuxième Guerre mondiale (CM2GM)" that brings together the representatives of the resistance fighters, the forced conscripts, the victims of the Holocaust and the victims of World War 2. It is also the seat of the "Fondation luxembourgeoise pour la Mémoire de la Shoah", of the "Fondation nationale de la Résistance (FONARES)" as well as of several commemorative associations.
Tuesday to Friday, from 1:00 pm to 4:30 pm and on appointment. Closed on weekends and on holidays.