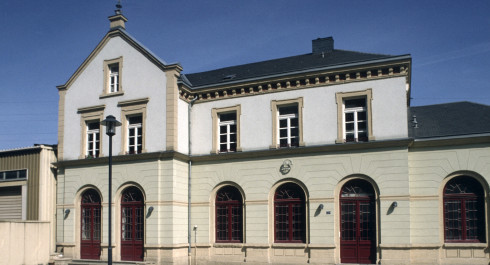 The Hollerich train station accommodates a permanent exhibition on Luxembourg during World War 2 accessible to the public on appointment.
During the Nazi occupation of Luxembourg (1940-1945), the train station in Hollerich served as one of the main gathering sites and departure points for young Luxembourgers forced to join the German labour service ( the "RAD") and the German military service.
Furthermore, thousands of politically unfavourable Luxembourgers were displaced (umgesiedelt) from Hollerich.
A part of the Jews who were living in Luxembourg were loaded into the trains only a few hundred metres from this point, at the Luxembourg train station, and were deported to ghettos or death camps where many died in terrible conditions or were murdered.
Among other commemorative associaitions, the « Fédération des enrôlés de force (FEDEF)" and the « Fondation du Mémorial de la Déportation » have their seat here.

Tuesday to Friday, from 1:00 pm to 4:30 pm and on appointment. Closed on weekends and on holidays.