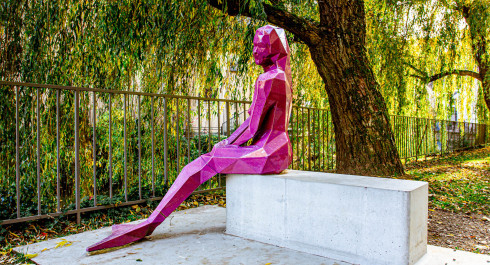 The statue of the legendary mermaid Melusina by Luxembourg artist Serge Ecker, created by 3D printing, was installed in the Grund Viertel on the banks of the Alzette river in 2015
The legend of Melusina
The story of the foundation of Luxembourg City by Count Siegfried in 963 is closely linked to the figure
of Melusina the mermaid. When she married Count Siegfried, she stipulated one condition: every Saturday she wanted to be alone in absolute privacy.
Over the years, jealousy overcame the first count of Luxembourg and eventually led him to break his promise. He followed Melusina into her private chambers to secretly observe her taking a bath on the forbidden day. In doing so, he saw Melusina taking a bath and discovered her secret: her bottom half was a fishtail.
When Melusina became aware of Siegfried watching her, she disappeared into the depths of the river Alzette. The count never saw his beloved Melusina again.
Other Monuments and places