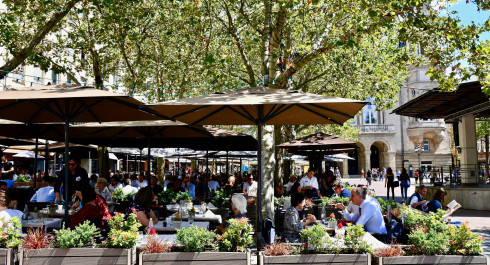 As an integral part of the pedestrian zone, surrounded by lots of street cafés and restaurants, it has become the place where the young and the old, the locals and the visitors meet.
Place d'Armes, also named "Parlour of the City", was aligned by Sebastian van Noyen from Utrecht and completed by Governor Jean Charles de Landas in 1671. The French troops of Louis XIV paved the square, planted lime-trees and used it for parades.
The Place d'Armes hosts today the Christmas Market and, due to the kiosk, open-air concerts during the season.
The City Palace, nowadays called Cercle Cité, is situated on the Place d'Armes as well. In 2006, comprehensive renovation and restoration work was carried out on the Cercle in order to transform it into a convention and exhibition centre. The work was completed in April 2011.
Other Monuments and places