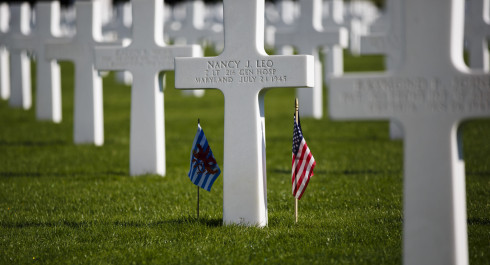 American Military Cemetery
American Military Cemetery
In Hamm we are face to face with the graves of American soldiers who perished in the Battle of the Bulge, in 1944-45, at the end of the Second World War, against the German Wehrmacht (Army).
George S. Patton, the commander-in-chief of the 3rd US Army Corps, found his last resting place here, as he had wished expressly.
The white crosses of the 5,076 graves form an arch in front of a memorial chapel.
As of Monday, 22 June 2020, the Luxembourg American Cemetery is accessible through a new public bus service. The Luxembourg Public Transport System introduced a new bus line that will run every hour from 10 a.m. to 4 p.m. between the Luxexpo, in Kirchberg, to our cemetery, in Hamm. Please find the schedule here.
Photo credits: Imagery Courtesy of ABMC
| | |
| --- | --- |
| Monday | 09:00 - 17:00 |
| Tuesday | 09:00 - 17:00 |
| Wednesday | 09:00 - 17:00 |
| Thursday | 09:00 - 17:00 |
| Friday | 09:00 - 17:00 |
| Saturday | 09:00 - 17:00 |
| Sunday | Fermé |