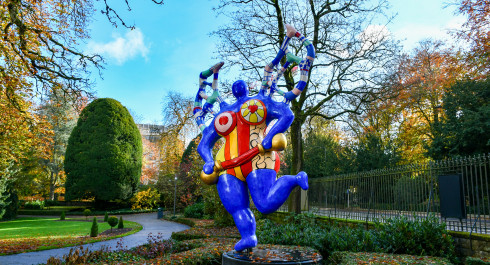 "Niki de Saint Phalle" sculpture
"Niki de Saint Phalle" sculpture
The work entitled "The Great Temperance" by the famous Franco-American artist Niki de Saint Phalle was created in 1992 in polychrome laminated polyester resin and hand-painted by the artist.
In 1995, the City of Luxembourg acquired this unique work at the Galerie Jean-Gabriel Mitterrand (Paris), on the occasion of the European Year of Culture in 1995.
From 1995 until December 2011, the work remained installed on the Place Hamilius. Before the start of the redevelopment work on the said square, it was removed from its base and stored for conservation. In September 2019 the sculpture was put back in place at so-called "Um Piquet" and today it is located at the park of Villa Vauban.
Other Monuments and places