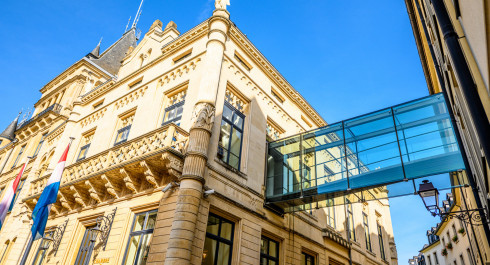 The ancient church Saint Nicholas and its cemetery were removed in 1778 and the correspondant parish were relocated to the former Jesuit Church.Today's building was constructed from 1858-1859 under the guidance of the luxembourgish civil engineer Antoine Hartman, back then it was called Palace of the nation.
This building, designed as well to be grand ducal residency from 1848 on, was not meant to overshadow the seat of government
One can see on the three columns on the extremities of the building three figures representing the archangels. Those three Angels symbolize the legislative power, that is administrated by the Grand Duke in conjunction with the Chamber.
The archangels are wearing on top of the columns different symbols: scepter, crown, cornucopiam Luxembourgish, coat of arms and code law.
Other Monuments and places