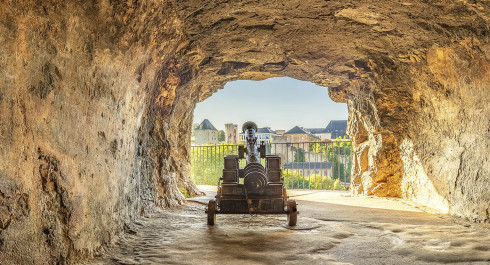 The Bock Casemates are temporarily closed.
Belonging to the UNESCO World Heritage, the first underground tunnels were built in 1644, in the era of the Spanish domination. The 23-kilometre long galleries were enlarged only 40 years later by Vauban, the French military engineer and fortress builder, and in the eighteenth century by the Austrians. The subterranean defensive passages were placed on different levels and reached down as far as 40 metres. It is these impressive defence works that conferred Luxembourg the name of "Gibraltar of the North".
After the dismantling of the fortress in 1867, 17 kilometres of the casemates were spared, left in good condition. Since 1933 the Bock and Pétrusse casemates have been open to the public. The fortress ramparts and the historically impressive Old Town enjoy international reputation: in 1994 UNESCO listed Luxembourg's old town and fortifications including the casemates as World Heritage.