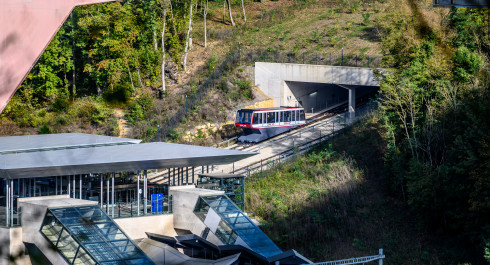 The funicular is a key element of the intermodal exchange hub linking the Pfaffenthal district to the Kirchberg Plateau. Inaugurated in 2017, it connects the Luxembourg rail network with the tram, bus and cycle track.
Located near the Pont Rouge, the funicular allows passengers coming from the train to climb 40 metres in 63 seconds and continue their journey towards the districts of Kirchberg, Limpertsberg or the Ville-Haute.
The funicular is completely free of charge, like all public transport in Luxembourg, and offers breathtaking views of the valley and the Grand Duchess Charlotte Bridge.