1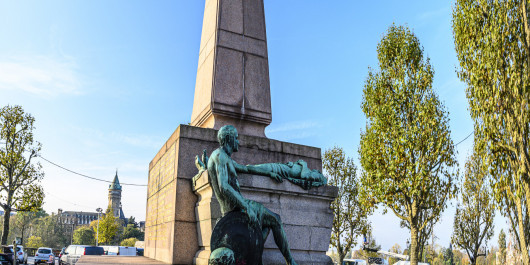 "World War II" Circular Walk
"World War II" Circular Walk
Discover historical sites and places of remembrance in relation to World War II.
On 10 May 1940, the Wehrmacht invaded the Grand Duchy of Luxembourg, marking the beginning of a 4-year long occupation until the country's liberation on 10 September 1944. The German invasion prompted the grand ducal family, along with government ministers, to go into exile. To this day, the city bears witness to this dark period which resulted in the death of 2% of the country's population.
Take a journey back in time and retrace the footsteps of World War II in the heart of Luxembourg City. Accompanied by one of our official guides, explore twelve of the city's most emblematic memorial sites, discover which historical landmarks were seized by the Gestapo to be turned into headquarters and find out how Grand Duchess Charlotte stayed connected to the people of Luxembourg during her time abroad.
Points d'intérêt sur la carte
Book your personal guide:
| | |
| --- | --- |
| Group from 1 to 20 people | 120€ |
---
Book a guided tour for your group at the date, time and in the language of your choice. Please book at least 10 working days in advance.
"World War II" Circular Walk