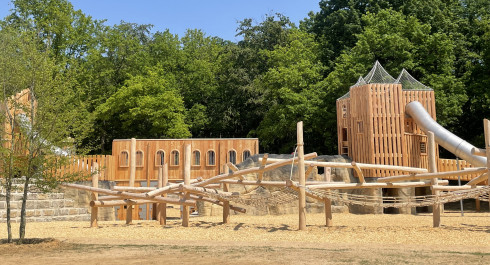 Forest playground "Bambësch"
The newly renovated Bambësch forest playground is the ultimate playground for little adventurers!
Forest playground "Bambësch"
Not only does it have the most amazing slides, swings, sand pit, wooden parcours, zip line, climbing wall and water playground but it is also located in an amazing green area with tall trees and breathtaking nature.
Tables and benches for your picnic, shady areas, toilets and potable water are also offered at this playground.
The playground is divided into several sections catering to children of different age groups. Elements of the playground are themed according to the city's historic landmarks, such as the Bock Promontory, the castle bridge, the hollow tooth, the three towers, the fortress wall and the Alzette river.
Bambesch playground has been designed to enrich the sensorial skills of the children by creating an playful environment which activates the senses.
Inside the castle buildings, xylophones (musical instruments) invite children to create music in the sound maze. Areas with a stable surface can be accessed by people with reduced mobility, and some areas have been outfitted with ramps to make them accessible to people in wheelchairs.
It is really a remarkable playground, where children will have endless fun together!
A small summary of the main facilities of the playground are here:
Parking at the entrance
Toilets
Potable Water
Tables and benches
Shady areas
Water playground
Sand pit
Slides
Swings
Zip line
Bus line 33 takes you right from the city centre to "Bambësch" forest playground.
Text and photos by TravelMatKanner