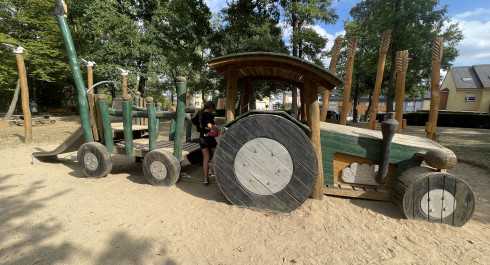 Farm themed playground in Gasperich
This playground is well worth visiting, your kids will love it!
Farm themed playground in Gasperich
This farm playground with wooden carved farm animals, swings and other fun games is ideal for children of all ages. Surrounded by tall trees, it is the perfect playground to hide from the scorching sun and play in the shade during the warmer summer months. A dreamy playground under majestic, tall trees, with a dog park attached to it, a wonderful English farm theme, with animal farms curved in wood, different swings and playgrounds for very small kids and bigger kids.
This playground features:
Benches and tables
Small football court
Dog park
Slides
Swings
Sand pit
It is the ideal place for nature lovers. The playground enables a safe environment for kids to explore the surrounding nature. A separate space is dedicated to toddlers and smaller kids, allowing them to play and mingle with same-aged kids.
Text and photos by TravelMatKanner