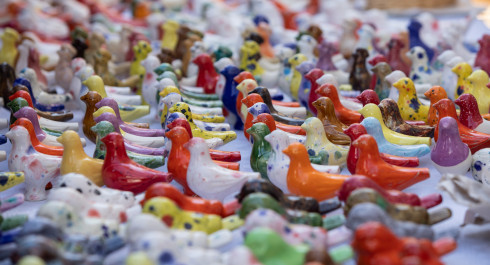 Traditional celebration of Emmaus
On Easter Monday small whistling birds made of baked clay (Péckvillercher) are sold at the "Marché-aux-poissons" (behind the Palace of the Grand Dukes) and in the streets of the old town.
When
Easter Monday
Programme 2022
Entertainment programme
The day will feature appearances by various folklore groups performing songs, dances and music at the Marché-aux-Poissons, outside the National Museum of History and Art, from 10:00 to 17:00.
10:00–11:00: Lidderuucht Lëtzebuerg
11:00–12:00: Folklore Uucht – La Ronde
13:00–14:00: Les Brasseurs (Brass Ensemble)
14:30–15:30: Alles Blech
In addition to the stalls and programme of entertainment, the City of Luxembourg will also be hosting free face-painting sessions for children, from 10:00 to 17:00, at the intersection of Rue du Rost and Rue de la Boucherie.
Crafts market
The crafts market – organised jointly by the City of Luxembourg's Service Espace public, fêtes et marchés (Public Spaces, Festivals and Markets Department) and the Alstad Committee – will be held from 8:00 to 17:00, in the historic alleyways of the Old Town, in particular in the Marché-aux-Poissons, Rue du Marché-aux-Herbes, Rue de la Boucherie, Rue du Rost, and Rue Sigefroi.
Along a 500-metre-long stretch, visitors will find stalls and stands offering items produced in ceramic, pottery and craft workshops in Luxembourg and abroad, and much more. The stands will be spread out as follows:
Pottery: 39 stands
Crafts: 22 stands
Food: 5 stands