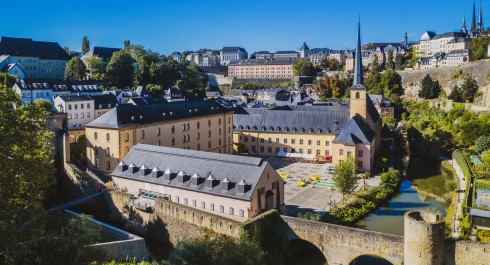 Wenzel Circular Walk
Walk in the footsteps of Wenceslas and discover the former fortress city's most beautiful attractions!
The Wenzel Circular Walk guides visitors through the millennial history of the city of Luxembourg. This walk brings you to the oldest quarters of Luxembourg City as well as to some of the fortress works, which were inscribed on the UNESCO World Heritage list in 1994. During this walk, you will discover, among many others, the Bock promontory (the cradle of the city); the castle bridge which was built in 1735, as well as the Corniche, also known as the "most beautiful balcony in Europe".
Its name pays tribute to Wenceslas II, Duke of Luxembourg between 1383 and 1419, during whose reign a part of the third ring, the so-called Wenzel wall, was erected to protect the inhabitants of the valley.
Start
Luxembourg City Tourist Office, Place Guillaume II, Luxembourg
Duration
3 hours (5,5km)
Number of people
max. 10
Infos
Steep circuit with stairways and climbs. Certain parts are not passable with strollers and wheel chairs.