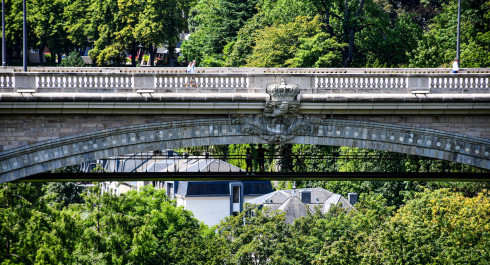 "Arts and crafts" in the fortress city
"Arts and crafts" in the public space change the perception of buildings and squares. They have always joined forces whenever the nobility, the bourgeoisie and the clergy wished to leave a legacy behind. But was this also the case in Luxembourg? Did foreign rulers express artistic ambitions when they settled in Luxembourg to continue the extension of the fortress? To what extent did citizens and church representatives act as patrons? What was the meaning of such artworks? To this day, if you look closely, you will discover art from all eras across the capital.
Embark on a 2-hour city tour with an official guide and discover works of art that bear witness to the city's rich history. This tour will help you understand the close relationship between the city's residents, artefacts and different eras.
Book your personal guide:
| | |
| --- | --- |
| Group from 1 to 10 people | 110€ |
---
Book a guided tour for your group (1-10 people) at the date, time and in the language of your choice. The first possible guided tour can take place during calendar week 18. Please book at least 3 weeks in advance.