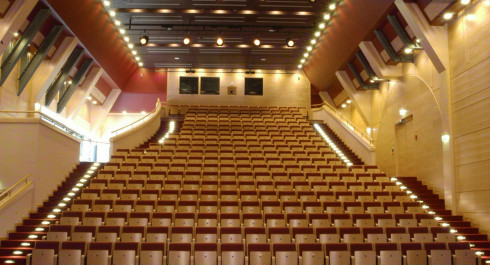 Neimënster - Centre Culturel de Rencontre
Neimënster - Centre Culturel de Rencontre
The old Altmünster Benedictine abbey was devastated in 1542 during the war between the French King Francis I and the German Emperor Charles V so that the Benedictine monks built a new abbey church in the suburb of Grund. The Neumünster Abbey consisted of a church and 4 wings enclosing an inner courtyard.
At the end of the 18th century, after the French Revolution, authorities expropriated the Church of Saint John, the abbey was altered so as to house a military hospital which functioned until 1867. After the State took over the premises, Neumünster was used as prison for male inmates up to 1980.
The centre offers concert, theatre and conference halls, seminars, open air concerts, studios and workshops for artists. The Robert Krieps Building ("Tutesall") hosts concerts, theatre plays and conferences. The complex also hosts the European Institute of Cultural Routes of the Council of Europe, the Pierre Werner Cultural Institute as well as a restaurant.