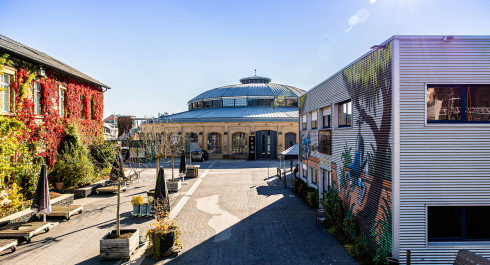 Rotondes
A cultural centre with a rich history
As its name suggests, Rotondes consists of two circular buildings. Each 52 metres in diameter, they were constructed in 1875 to serve as a depot and repair shop for steam locomotives. It has been through several permutations since then.
Industrial and railway heritage:
After the Second World War, steam engines gradually disappeared. Rotondes was then used as a storage space (Rotonde 1) and as a repair workshop for CFL buses (Rotonde 2).
Headquarters of the European Capital of Culture 2007:
Throughout 2007 after a refurbishment numerous cultural events brought the Rotondes site to life. The European cultural year confirmed that the site could leave part of its industrial past behind, and successfully welcome exhibitions, performances and concerts. Rotonde 1 housed four major exhibitions during 2007, including Douleur exquise by Sophie Calle. Rotonde 2 hosted artistic programmes for young audiences.
The return in 2015 and ongoing renovations:
Rotonde 1 is turned into a performance venue (Grande Salle), an exhibition space (Galerie), and a multi-purpose hall to host conferences, screenings, talks, etc. (Plateforme). Inside Rotondes 2 an independent structure was built to accommodate a café (Buvette) and a concert venue (Klub). And between the two Rotondes, a temporary container city (Co:Work, Studios 2, 3, and 4) has hosted events up to this day that ultimately will be held in Rotonde 2.