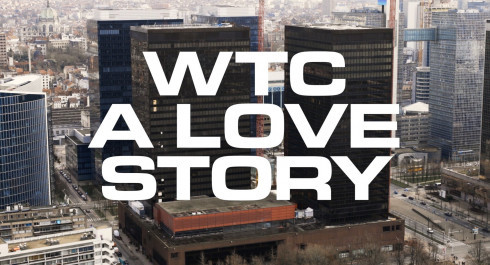 31.01.2024
WTC: A Love Story
Wat ass Architektur? – Cinémarchitecture

In the 1970s, the lively neighbourhood around Brussels-North Station was destroyed to make room for 'Little Manhattan', a modernist dream with the two World Trade Centre towers as its crown jewels. The project failed, leaving the towers and surrounding area largely abandoned. Since late 2017, the owner of the towers has shown a renewed interest in the area.

Closely witnessing the changes from their studio space on the 25th floor of WTC tower 1, Lietje Bauwens and Wouter De Raeve decided to enter the debate by making a film with the actors that claim a voice in the transition: politicians, an activist, the private owner, designers and others.

Taking the WTC towers as its object, the film project unravels power relations between the different actors involved in the urban redevelopment, and traces the influx of new progressive, ecological and horizontalist ideas and their impact on the area.

WTC: A Love Story uses fiction as a method to explore what stories enter the stage when the process of political representation is accelerated.


Genre: Architecture
Organizer / Collaboration: Organized by WAA
In collaboration with Rotondes, luca – Luxembourg Center for Architecture
Location: Plateforme
Language: In French and Dutch | Subtitles in English
Additional information: Dir. Lietje Bauwens & Wouter De Raeve | 2020 | docufiction (60') | BE With the support of the Bourse stART-up granted by the Œuvre Nationale de Secours Grande-Duchesse Charlotte
Links:
Wednesday 31.01.2024
19H00 - 19H00
Content provided by Echo.lu – Content non-binding and subject to change.

To advertise your event (taking place in the capital) in our calendar, register all the information on Echo.lu and display it on our agenda.