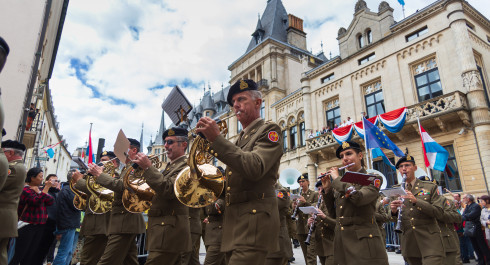 National Day, undoubtedly one of Luxembourg's biggest celebrations, takes place every year on 23 June in honour of the Grand Duke's birthday.
The celebration of the sovereign's birthday is a long-established tradition dating all the way back to the 18th century. During the reign of Grand Duchess Charlotte, it was decided to celebrate on the 23 June, despite the fact that she was born on 23 January. As the weather in January was deemed unsuitable for outdoor festivities, the celebrations were postponed to 23 June. The date hasn't changed since.
The festivities start on the eve of National Day with a solemn changing of the royal guard in front of the Grand Ducal Palace, followed by a torchlight procession ("Fakelzuch") through the city's streets and, later on in the evening, topped off with impressive firework displays fired from the Adolphe bridge. All throughout the night, the streets of Luxembourg City are transformed into a big open-air party with live concerts and DJs, attracting thousands of people.
On 23 June, official ceremonies are held throughout the day, including the military parade, the Te Deum in the late afternoon as well as the traditional 21-gun salute from Fetschenhof. National Day wouldn't be complete without renditions of the national anthem "Ons Heemecht".
Here are the lyrics of the national anthem:
Ons Heemecht
Wou d'Uelzecht durech d'Wisen zéit,
Duerch d'Fielsen d'Sauer brëcht.
Wou d'Rief laanscht d'Musel dofteg bléit,
Den Himmel Wäin ons mëcht.
Dat as onst Land, fir dat mir géif,
Heinidden alles won.
Ons Heemechtsland, dat mir sou déif
An onsen Hierzer dron.
O Du do uewen, deem séng Hand
Duurch d'Welt d'Natioune leet.
Behitt Du d'Lëtzebuerger Land
Vru friemem Joch a Leed!
Du hues on all als Kanner schon
de fräie Geescht jo gin.
Looss viru blénken d'Fräiheetssonn
Déi mir sou laang gesin.
The full program is available here: nationalfeierdag.vdl.lu

Date
Saturday 22/06/2024
Sunday 22/06/2025