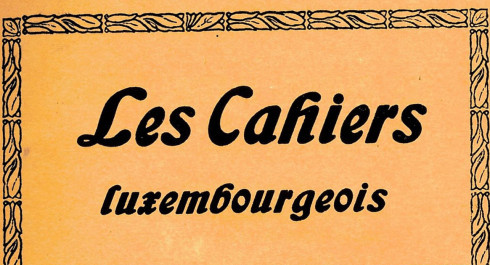 08.12.2023
100 Jahre "Les Cahiers luxembourgeois"
100 Jahre "Les Cahiers luxembourgeois"
Die erste Nummer der Les Cahiers luxembourgeois erschien vor 100 Jahren, im Oktober 1923. Dem Redaktionskomitee gehörten, neben Nicolas Ries und Frantz Clément, auch Mathias Esch, Joseph Hansen, Nicolas Braunshausen, Mathias Tresch und Paul Palgen an, diese waren zumeist auch Mitglieder der Volksbildungsbewegung. Verleger war Paul Schroell, damals noch Herausgeber des Escher Tageblatt. Nach der ersten Editionsphase von 1923 bis 1940 unter Nicolas Ries und der Unterdrückung der Zeitschrift während der NS-Besatzung, brachten der Grafiker Raymon Mehlen und der Journalist und Verleger Tony Jungblut sie 1946 wieder heraus (zeitweilig unter der redaktionellen Leitung von Emil Marx), ab 1948 war Raymon Mehlen alleiniger Herausgeber. 1965 wurde die Zeitschrift vorübergehend eingestellt, bis der Journalist und Autor Nic Weber die Cahiers von 1988 bis 2008 wiederbelebte. Seit 2016 erscheinen die Cahiers luxembourgeois wieder dreimal jährlich, herausgegeben von einem dreiköpfigen Redaktionskomitee (Ian De Toffoli, Marc Limpach und Elise Schmit).
Die Lesung bietet eine Wanderung durch hundert Jahre Kulturgeschichte Luxemburgs anhand der Editionsgeschichte und der Beiträge in den Cahiers luxembourgeois: Historisches, Literarisches, Kurioses und Überraschendes!
Eine Produktion des Kasemattentheaters zusammen mit den Cahiers luxembourgeois, mit der Unterstützung der BnL und des CNL. Anmeldung über [email protected]
Friday 08.12.2023
20H00 - 20H00
Content provided by Echo.lu – Content non-binding and subject to change.

To advertise your event (taking place in the capital) in our calendar, register all the information on Echo.lu and display it on our agenda.