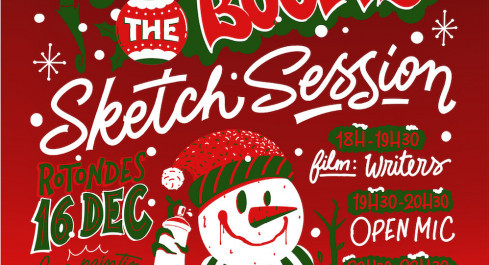 16.12.2023
Back to the books
Sketch session + Battle

Sorry, this texte doesn't exist in English.

Événement incontournable mêlant culture graffiti et hip-hop, Back to the Books fait son retour cette année pour sa quatrième édition : l'occasion idéale pour les jeunes, anciens, pros et débutants de présenter leurs talents de « style writing » au public.

Au programme, une soirée dédiée au dessin, laissant place à la créativité et au partage avec le public. Entre open mic de rap, battle de sketch et de graffiti, live painting, DJ set avec le célèbre Jean Maron, animation par l'incroyable Yellow, et un « Graffiti Market », tout sera au rendez-vous pour vous plonger dans la culture graffiti et vous laisser surprendre par de nouveaux styles !


PROGRAMME
18:00-19:30 : Projection:

Writers « 20 ans de graffiti à Paris »
Dir. Marc-Aurèle Vecchione | 2004 | documentaire (93') | France
19:30-20:30 : Open Mic
20:30-22:30 : Battle 1 vs 1
23:00-01:00 : DJ & Open Mic
Genres: Graffiti & Music
Organizer / Collaboration: Organized by I love Graffiti a.s.b.l.
Location: Klub
Language: FR
Additional information: From 12 to 60 years old
Links:
Saturday 16.12.2023
18H00 - 18H00
Content provided by Echo.lu – Content non-binding and subject to change.

To advertise your event (taking place in the capital) in our calendar, register all the information on Echo.lu and display it on our agenda.