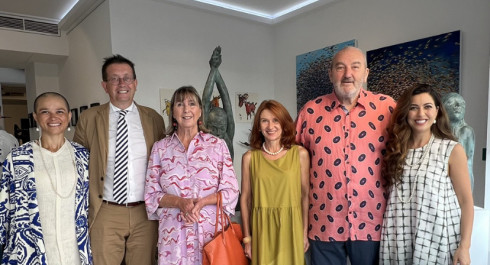 11.10.2023
Sculpture Gallery 66
Antique dealer and art expert Armand A. Wagner celebrated his 66th birthday this year, having been a successful entrepreneur in his home country Luxembourg for over 40 years, and he has no plans to stop anytime soon; quite the opposite, in fact. He just opened a temporary art gallery exclusively for sculptures in the heart of Luxembourg City (43 Grand Rue), fulfilling a long-held wish. In the focus are the works of various artists, all exceptional, as people are accustomed to from Wagner. From an ensemble of seven running bronze geese (Prof. Wolfgang Binding) to the humorously designed "King Arvo on a Journey," sitting on a pig (Lieven Demunter, one-of-a-kind in terracotta), to a life-sized, elegant swimmer (Marc de Corte, bronze) reminiscent of Art Déco, these academic works cater to a broad audience of art enthusiasts with varying budget expectations. Depending on the piece, they may be numbered originals, artist's copies, or unique creations.
From Wednesday 11.10.2023 to Saturday 30.12.2023
19H00 - 19H00
Content provided by Echo.lu – Content non-binding and subject to change.

To advertise your event (taking place in the capital) in our calendar, register all the information on Echo.lu and display it on our agenda.