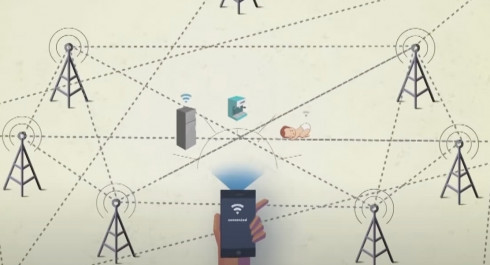 07.12.2023
Digital Dilemma
Smartphones, Laptops und das Internet generell nutzen wir jeden Tag. Damit das möglich ist, braucht es eine umfassende und starke Infrastruktur, die flächendeckende Reichweite und Anbindung ans Netz sichert.
Diese Versorgung durch Antennen und Maste wird selten hinterfragt, dabei ist das exzessive Ausgesetzt-Sein sowohl kognitiv wie auch medizinisch problematisch. Gehört wird das nicht gerne, weder vom einzelnen User noch von der Industrie.
Sind die Mobilfunk- und Internetstrahlungen denn nun gefährlich? Die Wissenschaft ist zerstritten, die Experten uneins. Die WHO hat die hochfrequenten Strahlen schon als «möglicherweise krebserregend» eingestuft. Forschung zu elektromagnetischen Feldern gibt es dabei schon länger, die Ergebnisse der Studien sind besorgniserregend – und doch scheint in der Wissenschaftsvermittlung eine gewisse Verzerrung stattzufinden. Nun kommt der Ausbau mit 5G und 6G – dabei verlangt selbst das EU-Parlament zunächst nach mehr Forschung. Weicht das Vorsorgeprinzip hier dem Geld? Welchen Einfluss hat die Lobby und die Industrie dabei?
Es müssen demnach mehr Fragen an beratende Gremien gestellt werden, vom Recht auf Sicherheit und auf fundierte, sichere Informationen darf nicht abgesehen werden.
Der Vortrag des Physikers und ehemaligen EU-Parlamentariers Klaus Buchnerklärt über Funktion und Risiken der Mobilfunk- und Hochfrequenz-Strahlung auf und stellt Fragen an die wissenschaftlichen Akteure auf dem Feld.
Im Film «Digital Dilemma» wird sich mit der Historie der Telefonie sowie des umfassenden Einflusses auf die Gesellschaft und den Einzelnen befasst. Es wird dabei deutlich, wie sehr sich die Lager der Befürworter und Gegner voneinander unterscheiden. Welche Alternativen gibt es heute schon, um sich vor exzessivem Strahleneinfluss zu schützen?
Präsentiert werden neue Technologien wie z.B. Li-Fi, das mit Lichtfrequenzen funktioniert.
Der Journalist und Produzent Klaus Scheidsteger (Kompetenzinitiative e.V.) wird im
Anschluss über die Dreharbeiten und den Kontext des Films berichten. Raum für Fragen und Diskussion ist gegeben!
Um Anmeldung wird gebeten: [email protected].
Ablauf des Abends:
18.00–19.00: Vortrag von Prof. Dr. Klaus Buchner
19-00–20.15: Filmvorführung «Digital Dilemma»
20.15–21.00: Diskussion mit dem Journalisten und Produzenten Klaus Scheidsteger
In Zusammenarbeit mit: Kompetenzinitiative e.V.
Eintritt: gratis
Weitere Informationen: www.ewb.lu
Thursday 07.12.2023
18H00 - 21H00
Content provided by Echo.lu – Content non-binding and subject to change.

To advertise your event (taking place in the capital) in our calendar, register all the information on Echo.lu and display it on our agenda.