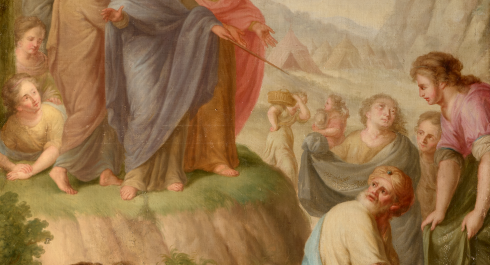 28.07.2023
D'histoires et d'art. Peindre au Luxembourg au XVIIIe siècle
D'histoires et d'art. Peindre au Luxembourg au XVIIIe siècle
Dive into the fascinating lives and works of 18th century painters from Luxembourg in our immersive new show at the Nationalmusée um Fëschmaart. Offering a glimpse into a little-known chapter of the country's art history, D'histoires et d'art explores the lived reality of artists in the 1700s and the intriguing paintings they produced, from altarpieces and other religious works through to portraits and still lifes.
As a nod to the era, all the artworks are hung on a single wall, transforming the exhibition space into a sumptuous 18th century salon. As visitors admire the paintings, the room changes around them, projecting a wide range of videos onto the wall that immerse the viewer in the stories behind the paintings and their makers. From the price of paintings through to the trends of the day, the show offers a unique insight into the art scene of the 18th century.
Drawing on extensive research by Henri Carême, who defended his thesis on this very subject earlier this year at UCLouvain, the exhibition brings to light previously unknown details of how artists lived day to day in Luxembourg with source material from all over the country. The accompanying publication provides the first comprehensive overview of the subject, featuring exciting new discoveries and in-depth analysis of archival material.