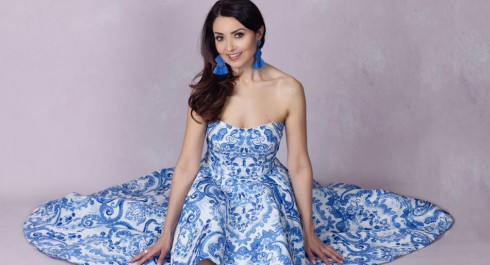 18.12.2023
Concert de bienfaisance Manuela Rufolo
Concert de bienfaisance Manuela Rufolo
Sa voix charismatique unie à son talent interprétatif vous embarqueront dans un voyage sonore unique, imprégné de ses racines italiennes et méditerranéennes.
Au fil des années elle a chanté différents styles de musique en duo et trio avec des musiciens locaux et s'est produite avec son propre groupe dans différentes salles de concert et festivals à travers le Luxembourg et la Grande Région (entre autres : Casino 2000, Melusina, Neumünster Abbey, Rockhal, Le Gueulard etc ). Elle s'est également produite dans le cadre du Festival Bellissimetz à Metz, de la Foire Internationale de Nancy et du Festival du Film Italien de Villerupt.
C'est en 2019 qu'elle décide de revenir à l'écriture, soutenue dorénavant par son propre groupe. Son style d'écriture est imagé, le message, profond, est exprimé à travers des textes poétiques et inspirants. Étant une artiste passionnée par le chant et la technique vocale, ses chansons montrent toujours de grandes dynamiques vocales.
Après 4 titres sortis les trois dernières années (Domani, Amaranto, The moment you feel, Careless souls) et de nombreux concerts au Luxembourg et en France, elle sort un tout nouveau titre le 7 juillet dernier intitulé « El Bailarino ». Ce titre marque le début d'une nouvelle collaboration, avec le musicien Kader Fahem.
El Bailarino naît de l'exigence nouvelle et forte de se rapprocher artistiquement de ses origines, c'est pourquoi les paroles en italien et les sonorités chaudes et méditerranéennes, mais aussi de l'exigence d'intégrer de nouveaux éléments et de nouvelles sonorités inspirées de l'Espagne, comme le titre en espagnol (El Bailarino) le laisse entendre, surtout de la musique traditionnelle espagnole.
La collaboration avec Kader Fahem, une référence de la guitare flamenco et arabo - andalouse, lui permet finalement d'exprimer en musique cette nouvelle identité, avec la création d'une fusion unique d'horizons méditerranéens, entre pop, jazz et musiques du monde (world music).
Organisateur: Lions Club Erasmus Luxembourg
neimënster - Centre Culturel de Rencontre Abbaye de Neumünster
28 rue Münster
L-2160 LUXEMBOURG

Monday 18.12.2023
20H00 - 22H00
| | |
| --- | --- |
| Ticket tarif normale | 20 € |
| Ticket Kulturpass | 1.5 € |
Content provided by Echo.lu – Content non-binding and subject to change.

To advertise your event (taking place in the capital) in our calendar, register all the information on Echo.lu and display it on our agenda.