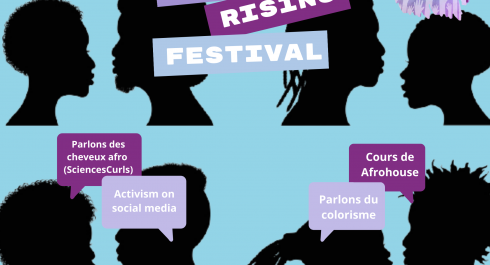 Sorry, there's no English version of this text.

Le Youth Rising Festival veut mettre la jeunesse à l'honneur, donner une voix aux cultures afro-caribéennes et célébrer le talent d'artistes locaux⸱ales et européen⸱nes.

L'ouverture du festival aura lieu le vendredi 03.06 avec l'expérience théâtrale Le Sbeul. Le festival se clôturera samedi 04.06 avec le concert d'Edgar Sekloka.

Entre les deux, des ateliers percutants et interactifs seront proposés. Gratuits, ils seront réservés aux 15 à 30 ans.


Genre: Festival
Organizer / Collaboration: Organized by Lëtz Rise Up, in collaboration with Rotondes
Age: From 15 years old
Location: Studio
Additional information: Workshops are open to 15 to 30-year olds.
Price: The event is free for 15 to 30-year olds.
Links:
Content provided by Echo.lu – Content non-binding and subject to change.

To advertise your event (taking place in the capital) in our calendar, register all the information on Echo.lu and display it on our agenda.