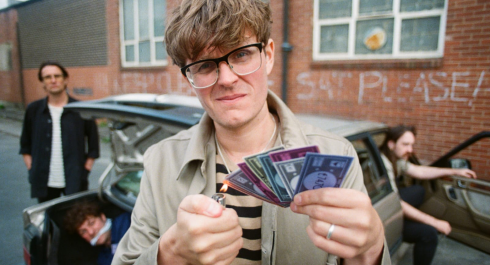 Please note that this concert has been rescheduled. Did you have tickets for February 11? They remain valid. Can't make it on June 9? Contact us at tickets@rotondes.lu.
Yard Act formed in Leeds in September 2019 when Ryan Needham found himself temporarily living in James Smith's spare bedroom. Settling into a system of programming, looping and layering, the alchemy between the two created a base from which to build their complex and ever expanding narrative world.
With just three hometown shows under their belt, world events intervened. But rather than letting the pandemic derail them Yard Act set up their own imprint, Zen F.C. and across the course of 2020 and into early 2021 released four increasingly coruscating, hilariously dark singles.
Now expanded to a four-piece, Yard Act have announced their debut album
The Overload
, set for release on January 7, 2022. Their inherent wit has been sharpened down into something that speaks to the times we live in, creating a statement of intent that survives on nuance, that manages to poke fun at society without punching down from a place of left-wing superiority or right-wing anger.
The Overload
is a political record, but in the same way that all great observations of human nature are – a messy, complex, knowingly hypocritical snapshot of our current state of play.
For fans of:
Idles, The Murder Capital
Genres: Post-punk & Minimalist rock
Location: Klub
Price: Presale: 12€ + 1€ (fees) Doors: 14€
Label: UK
Programme: Doors >20:30 Show >21:00
Links:
Content provided by Echo.lu – Content non-binding and subject to change.

To advertise your event (taking place in the capital) in our calendar, register all the information on Echo.lu and display it on our agenda.