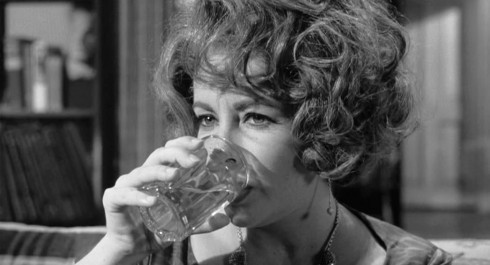 Who's Afraid of Virginia Wolf (Rétrospective Elizabeth Taylor)
Who's Afraid of Virginia Wolf (Rétrospective Elizabeth Taylor)
Who's Afraid of Virginia Woolf?

USA 1966 | vostf | 128' | De : Mike Nichols | Avec : Elizabeth Taylor, Richard Burton, George Segal, Sandy Dennis
► 5 Oscars 1967, dont celui de la Meilleure actrice pour Elizabeth Taylor
Martha, fille du doyen de l'Université, et son mari George, professeur d'Histoire, rentrent légèrement éméchés d'une réception. À la demande de son père, Martha s'est vue contrainte à inviter un jeune couple, récemment emménagé, à les rejoindre pour boire un dernier verre. Mais à leur arrivée, Nick, professeur de biologie, et son épouse Honey trouvent leurs hôtes en pleine dispute…
« On ne saurait nier l'intensité dramatique du récit et la prodigieuse performance des deux 'monstres sacrés' qui l'animent. » (Le Monde)
« L'interprétation tonitruante d'Elizabeth Taylor et celle, magnifiquement retenue, de Richard Burton sont appuyées par une mise en scène très soignée, très discrète et très tendre. » (Télérama)
« Le noir et blanc sublime donne au métrage une noirceur poétique et horrifique qui contribue au pouvoir hypnotique du récit. » (àVoir-àLire.com)
« Taylor is nothing less than brilliant as the shrewish, slovenly, blasphemous, frustrated, slightly wacky, alcoholic wife of a meek, unambitious assistant professor of history at a university, over which her father reigns as president. » (New York Daily News)
Content provided by Echo.lu – Content non-binding and subject to change.

To advertise your event (taking place in the capital) in our calendar, register all the information on Echo.lu and display it on our agenda.