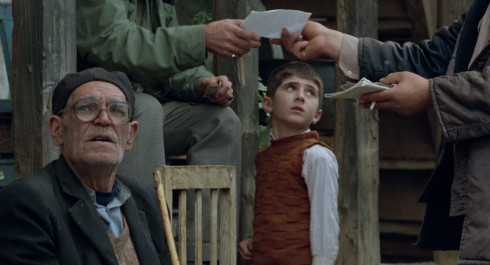 28.06.2023
Where is the Friend's House? (Faces of Iran)
Where is the Friend's House? (Faces of Iran)
Where is the Friend's House?
Khaneh doust kojast? Iran 1987 | Abbas Kiarostami | vostEN | 79' | digital | Cast: Babek Ahmed Poor, Ahmed Ahmed Poor, Khodabakhsh Defaei
Eight-year-old Ahmed takes Mohammed's notebook home from school by mistake and knows that if his friend doesn't finish his homework he'll be expelled. Against his mother's orders, Ahmed sets out for Mohammed's house, helped and hindered by distractions along the way.
« Kiarostami spins one of the greatest of all films out of a child's urge to return a notebook to his classmate. Dramatizing this dilemma, Kiarostami offers a tapestry of life, revealing how the domestic textures of the village embody its class issues and politics. At first, Ahmed regards adults as impediments to his generosity, though the boy gradually comes to see that these men and women have their own vulnerabilities, which Kiarostami expresses in images of rapt beauty. » (Slant Magazine)
« It takes maturity to understand the simplicity of childhood, and genius to express the morality that transcends it. The foundation for Kiarostami's Koker trilogy (with And Life Goes On and Through the Olive Trees), yet by itself complete and perfect. » (CinePassion)
Egalement programmé le 11 juin à 15h00 avec un doublage live en français pour le jeune public.
Wednesday 28.06.2023
18H30 - 20H00
| | |
| --- | --- |
| Tarif plein | 3.7 € |
| Tarif réduit | 2.4 € |
| Kulturpass | 1.5 € |
Content provided by Echo.lu – Content non-binding and subject to change.

To advertise your event (taking place in the capital) in our calendar, register all the information on Echo.lu and display it on our agenda.