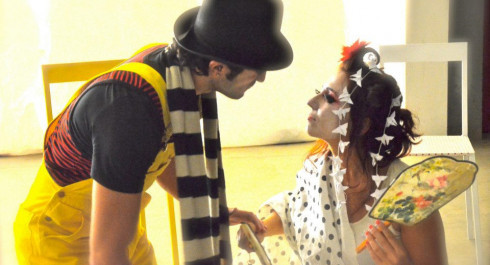 10.06.2023
WE ARE ALL BUT BUTTERFLIES
WE ARE ALL BUT BUTTERFLIES
WE ARE ALL BUT BUTTERFLIES
Artemysia Theatre asbl is delighted to bring this beautiful and heartwarming story to stage. The Show explores themes of self-discovery, resilience and the pursuit of happiness, following four friends - Mimo, Momo, Pipo, and Popo - as they navigate the highs and lows of childhood, adulthood and old age.
"We are all but butterflies" is a tale about the importance of nurturing one's inner child and keeping our childlike wonder and curiosity alive, embracing the magical moments in life. "We hope that audiences will be transported to the magical world of Momentum and find inspiration in the characters' journey" says the Artistic Director, Raffaella D'Angelo.
Written by: Priscille Chevri, Josué Dovoedo, Natasha Ewert, Susana Figueiredo, Maria Papamargariti, Anne Rasimus
Directed by Raffaella D'Angelo
With: Cristina Bolea, Virginia Bruscella, Ritesh Chaturvedi, Martina D'Avanzo, Antonio Dellagiacoma, Josué Dovoedo, Susana Figuereido, Julien Guillaume, Elena Khomiakova, Sabine Moritz, Dominga Palmisano, Luciana Palmisano, Alyce Skiba, Elitsa Stoeva
10 June, 2023, 19 h
Theatre Sang a Klang, 1 – rue de Trois Glands
Tickets: 10 euro
Language: English
Info & Reservations: [email protected], 661448824
Saturday 10.06.2023
19H00 - 20H00
Content provided by Echo.lu – Content non-binding and subject to change.

To advertise your event (taking place in the capital) in our calendar, register all the information on Echo.lu and display it on our agenda.