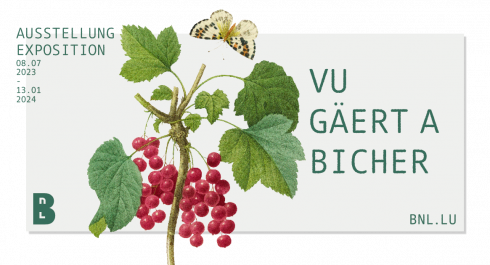 08.07.2023
Vu Gäert a Bicher
Gardens are places of relaxation and work, of design and discipline, of knowledge and imagination; they provide pleasure and enjoyment, shelter and utility in equal measure. Gardens are bounded spaces of flourishing and decay, as diverse in their forms and determinations as the communities of their users.
The ambiguity of the title Vu Gäert a Bicher, Of Gardens and Books or Of Gardens in Books, hints at the thematic scope of this exhibition: Selected documents, from books and journals to prints, plans and postcards, and even songs, illustrate a variety of historical and fictional gardens; they take us on a journey into stories about garden art, from parks to school gardens, from monastery gardens to kitchen gardens. From the advertisement to the precious botanical illustration, the garden is to be experienced anew. Previously unseen or rarely shown documents provide new insights into nature and the ideas we associate with gardens; they invite us on a tour through the social, scientific and cultural history of Luxembourg.
Contributors from the National Library, the University as well as other cultural institutions have collaborated on this exhibition, looking at the garden from the perspective of natural history, art history, literature, history and cultural history or from a librarian's point of view. The result is a colourful florilegium of different articles. Even though the focus is clearly on our Luxembourgish Collection and the special collections such as the Posters and Postcards collection, the Collection of Cards, Maps, Atlases and Views, the Ephemera Collection, the Music Collection or the Rare Books Collection, we did not intend to write a cultural history of the garden in Luxembourg or a systematic survey of it. So we also included examples from the so-called Fonds ancien, which includes books without reference to Luxembourg from before 1800, and from the holdings of foreign periodicals in our selection and tied all this together into a colourful bouquet of pictures and letters (- and, it must be said, had a lot of fun doing so).
From Saturday 08.07.2023 to Saturday 13.01.2024
19H00 - 19H00
Content provided by Echo.lu – Content non-binding and subject to change.

To advertise your event (taking place in the capital) in our calendar, register all the information on Echo.lu and display it on our agenda.