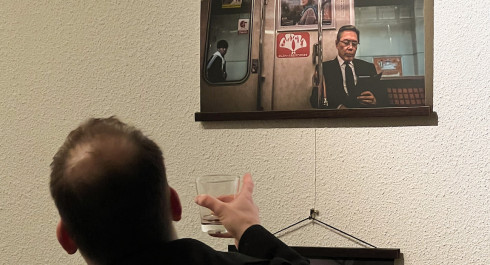 Visite Guidée der Fotoausstellung "City Life"
Visite Guidée der Fotoausstellung "City Life"
In der Ausstellung von Jan Schwarz wird der Besucher zum Zeugen: Die Street-Art Bilder porträtieren die Bewohner Tokyos, Kyotos und Osakas in alltäglichen Momenten. Mal wirken sie in sich gekehrt, mal irgendwie beschäftigt, doch durch das Objektiv immer auf eine Art eingefangen, die sie in ihrem bloßen Sein vorstellt. Es ist diese eigene Welt, in der wir eigentlich alle Leben, der Jan Schwarz auf die Schliche geht. Die Fotografien sind nicht gestellt, das Zentrale bleiben Fragmente, reelle Momente des Lebens, die es erlauben, eine ganz individuelle Geschichte zu erzählen. Dass die Bilder Zeugnis ablegen, verstärkt sich durch die besondere Komposition, die Jan Schwarz wählt: Das Auge des Fotografen findet eine natürliche Umrahmung, die das Geschehen eingrenzt. Symbolisiert das die Grenzen unserer Sichtweisen? Das persönliche Narrativ, nach dem wir unser Leben richten?
Dabei schwankt die Ästhetik der Ausstellung zwischen etwas rau und dennoch introvertiert; welches nicht nur die menschlichen Tiefen, wie auch die facettenreiche Kultur Japans widerspiegelt. Von dieser ist Jan Schwarz fasziniert: Die strenge Disziplin wie auch Demut und bedachte Pflege des gesellschaftlichen Zusammenseins schaffen eine unverkennbare Atmosphäre, in die er das Publikum durch seine Bilder gerne einladen möchte.
‍«City Life» erzählt vom Großstadtleben in einem ganz besonderen Land und ist vom 11.3. bis zum 14.4. in der ErwuesseBildung zu sehen.
Am 29. März 2023 um 15:30 Uhr führt der Fotograf Jan Schwarz selbst durch die Ausstellung.
Bitte melden Sie sich an! ([email protected])
Content provided by Echo.lu – Content non-binding and subject to change.

To advertise your event (taking place in the capital) in our calendar, register all the information on Echo.lu and display it on our agenda.