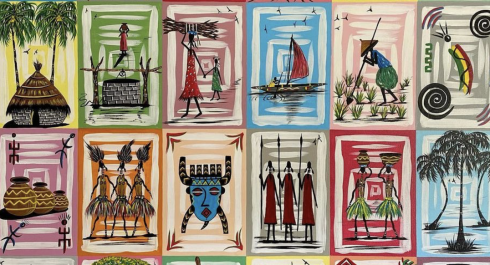 10.06.2023
Vernissage Seydina Issa Mbaye
Vernissage Seydina Issa Mbaye
De Kënschtler Seydina Issa Mbaye präsentéiert seng Wierker ab dem 10.6.–10.7.23 an der ErwuesseBildung. Seng Konscht weist afrikanesch Landschaften a Personnagen, heiansdo abstrakt an heiansdo ganz konkret – virun allem awer: voller Faarf a Liewen.
Op der Vernissage (10.6., 18h00) erzielt de Kënschtler iwwert säi Land de Senegal a seng Konscht. Dozou bréngt hien senegalesescht Snacks a Gedrénks mat – fir all d'Sënner ass deemno eppes dobäi!
Saturday 10.06.2023
18H00 - 18H00
Content provided by Echo.lu – Content non-binding and subject to change.

To advertise your event (taking place in the capital) in our calendar, register all the information on Echo.lu and display it on our agenda.