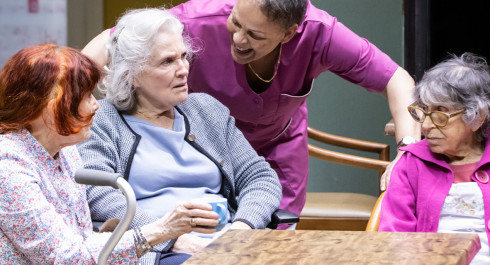 Nous sommes un an après la mort du père. La maison est devenue comme un champ de bataille entre les générations. Les deux filles, qui vivotent et n'arrivent pas à quitter le foyer, sont en colère contre la mère et ne voient pas de perspective d'avenir.
Puis, l'on découvre une autre histoire, celle de la dernière année de la vie du grand-père Robert dans un EHPAD (qui inclut une dizaine de personnes âgées, acteurs et non-professionnels). Il est soigné par une femme algérienne, qui a laissé ses enfants et sa mère âgée dans son pays, pour venir s'occuper d'étrangers, afin de leur envoyer de l'argent. Robert, raciste toute sa vie, est confrontée à la réalité, aux yeux vivants d'une personne imaginée, fantasmée.
Brassant les thématiques de la culpabilité, du déni, de l'héritage et de la mort, le théâtre d'Alexander Zeldin, qui met à nu la façon dont le système néolibéral broie les individus, est capable, malgré sa gravité, de nous donner la possibilité de ressentir la vie avec une plus grande intensité.
Content provided by Echo.lu – Content non-binding and subject to change.

To advertise your event (taking place in the capital) in our calendar, register all the information on Echo.lu and display it on our agenda.