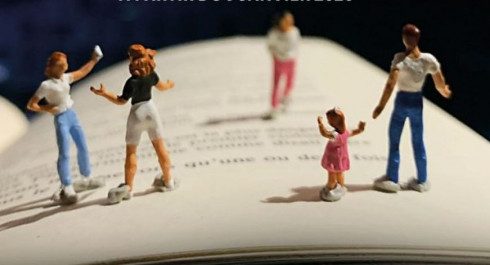 14.12.2023
Une histoire d'amour
Katia et Justine tombent amoureuses, un amour de conte de fée. Justine veut un enfant. Katia, trop souvent blessée par la vie, finit par accepter qu'elles tentent toutes les deux une insémination artificielle. Katia tombe enceinte, mais quelques jours avant la naissance de leur enfant, Justine disparaît…
Molière 2020 de la meilleure mise en scène de Théâtre privé, cette histoire d'amour-là vous transporte dans un tourbillon d'émotions, vous saisit et vous retourne sans que vous puissiez reprendre votre souffle une seule minute. Même aux moments les plus tragiques et attendus, Michalik, l'enfant prodige du théâtre, prouve sa maestria du rythme, qui avait fait mouche dans Edmond. On en sort à la fois ému, lessivé, et rempli de tous ces sentiments qu'on a eu le courage de vivre pleinement dans sa vie.
Un théâtre aussi troublant et désespérément vivant qu'une histoire d'amour.
« Comment écrire quelque chose de nouveau sur l'amour, le sujet le plus galvaudé du monde ? Peut-être en se concentrant sur sa fin. Mais l'amour peut-il finir ? Telle est la question que se posent ici cinq personnages en quête d'amour. Nous allons rire de leur détresse. Nous allons pleurer avec eux. Nous allons les aimer, tous. Car cette histoire, au fond, n'est rien d'autre que la nôtre. » Alexis Michalik
Représentation organisée par neimënster et l'Institut Français du Luxembourg
Line-Up:
Une création de : Alexis Michalik
En alternance : Clément Aubert, Pauline Bression, Salomé Benchimol, Alexia Giordano, Claire Tran, Paul Lapierre, Julia Lefaou, Marica Soyer, Adrien Cauchetier, Camille Bardery et Lila Fernandez
Scénographie : Juliette Azzopardi
Costumes : Marion Rebmann assistée de : Violaine de Maupeou
Lumières : Arnaud Jung
Vidéo : Mathias Delfau
Son : Pierre-Antoine Durand
Chorégraphie : Fauve Hautot
Perruques : Julie Poulain
Régie plateau : Laurent Machefert
Organisateur: neimënster
Autre organisateur: Acmé Production
Texte paru aux éditions Albin Michel
Langue: FR
Âge minimum: 12
Durée: 1h20
Thursday 14.12.2023
20H00 - 21H30
| | |
| --- | --- |
| Ticket tarif normale | 22 € |
| Ticket tarif réduit | 9 € |
| Ticket Kulturpass | 1.5 € |
Content provided by Echo.lu – Content non-binding and subject to change.

To advertise your event (taking place in the capital) in our calendar, register all the information on Echo.lu and display it on our agenda.