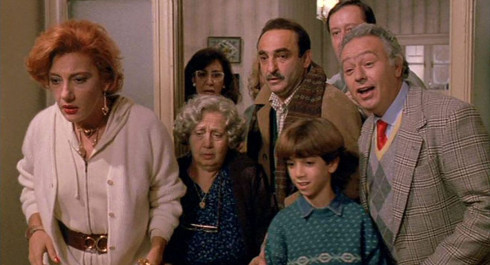 Une famille formidable (Comedy Classics)
Une famille formidable (Comedy Classics)
Une famille formidable
Parenti serpenti Italie 1992 | vostf | 105' | c | De : Mario Monicelli | Avec : Tommaso Bianco, Renato Cecchetto, Marina Confalone, Alessandro Haber
Comme chaque année la famille Colapietro, quatre frères et sœurs, leurs épouses et leurs enfants, se réunit pour fêter Noël chez leurs vieux parents. Tout va pour le mieux jusqu'au moment où les vieux parents annoncent que, trop âgés pour vivres seuls, ils ont décidé de s'installer chez l'un ou l'autre de leurs enfants. Alors là, ça déraille...
« Mario Monicelli renoue avec la comédie italienne de la grande époque. Le scénario est bien construit autour de personnages typés et très présents, les situations et les gags sont enchaînés sur un bon rythme, les interprètes jouent admirablement le jeu. » (François Chevassu, Le Mensuel du cinéma)
« Film moral si l'on veut, satire de l'égoïsme qui surmonte sans problème divergences politiques ou sexuelles ; on pense à Mocky… » (Positif)
Content provided by Echo.lu – Content non-binding and subject to change.

To advertise your event (taking place in the capital) in our calendar, register all the information on Echo.lu and display it on our agenda.