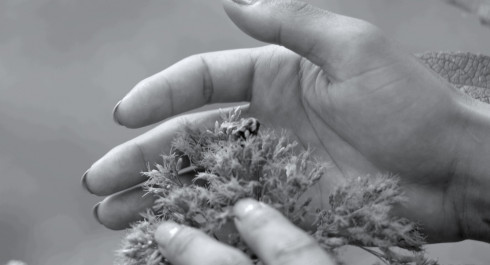 03.03.2023
Tourmaline. Pleasure and Pollinator
Tourmaline. Pleasure and Pollinator
Mudam Luxembourg presents recent works by Tourmaline, the recipient of the Baloise Group Prize 2022. This exhibition is the first solo presentation of Tourmaline's work in a European museum and is centred around the digital video Pollinator, which was donated to the museum by the Baloise Group.
Tourmaline is an artist, writer and transgender activist working mainly with video and photography to create elaborately staged scenes that honour living and historical figures of LGBTQI+ movements and queer culture. Using found footage and other archival material to investigate these subjects, the artist's approach is influenced by scholar Saidiya Hartman's notion of 'critical fabulation', which privileges fiction and speculation in (re)writing marginalised histories that have been erased or mis-transmitted in official sources. In these works, narrative tools are used for their politically empowering potential and help trace an imagined genealogy of Black queer figures, in which Tourmaline can also be inscribed.
Pollinator (2022) employs shots of Tourmaline dressed in early twentieth-century costumes while walking through the Brooklyn Botanic Garden and the Edwardian period rooms at the Brooklyn Museum. These are interspersed with archival footage showing the memorial of Marsha P. Johnson, an activist and performer who helped form Street Transvestite Action Revolutionaries (STAR) and was a figure of the Stonewall uprising of 1969. As Tourmaline wanders in the gardens and brushes against the plants, she acts as a 'pollinator' by carrying matter on her clothes. These sensual scenes are interrupted by other ones shot by Tourmaline showing her father singing, laughing and smoking a cigarette, as well as found footage of interviews with people who knew Johnson, one of which holds a picture of her smiling. This montage acts as a joyful reminder that Johnson was a nurturing figure for gender non-conforming and trans people in New York: she was, metaphorically speaking, a 'pollinator'. While evoking queer grief, Tourmaline's work privileges a celebratory perspective to imagine an alternative history and future for Black transgender communities – an approach that recalls what historian Robin D.G. Kelley defines as 'freedom dreaming'.
From Friday 03.03.2023 to Sunday 15.10.2023
19H00 - 19H00
| | |
| --- | --- |
| Erwachsene, Adults, Adultes | 8 € |
| Mittwoch 18h00–21h00 (Café –22h00), Wednesday 18h00–21h00 (Café –22h00), Mercredi 18h00–21h00 (Café –22h00) | 0 € |
| – 26 Jahre, Gruppen (min. 15 Personen), – 26 years & groups (min. 15 persons), – 26 ans & groupes (min. 15 personnes) | 5 € |
| Kulturpass, Kulturpass, Kulturpass | 0 € |
| – 21 Jahre, – 21 years, – 21 ans | 0 € |
| Studierende – 26 Jahre, Students – 26 years, Étudiant·e·s – 26 ans | 0 € |
Content provided by Echo.lu – Content non-binding and subject to change.

To advertise your event (taking place in the capital) in our calendar, register all the information on Echo.lu and display it on our agenda.