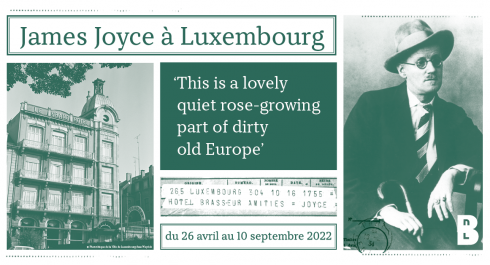 'This is a lovely quiet rose-growing part of dirty old Europe'
'This is a lovely quiet rose-growing part of dirty old Europe'
Le 16 août 1934, l'écrivain irlandais James Joyce et sa femme Nora débarquent en touristes à Luxembourg et s'installent pour une semaine au Grand Hôtel Brasseur, proche de la vieille ville. Durant son séjour, Joyce écrit une douzaine de lettres et cartes postales qui permettent de retracer ses pas et de percevoir la ville de Luxembourg à travers les yeux de l'auteur des Dubliners.

L'exposition présente en premier lieu la ville de Luxembourg comme destination touristique dans les années 1930. Elle met les pleins feux sur la correspondance de Joyce qui a pour point de mire la levée de l'interdiction d'Ulysses aux États-Unis tout en évoquant l'importance de Radio Luxembourg pour la carrière de chanteur de son fils George. L'exposition met en exergue aussi le rôle d'Aline Mayrisch-de Saint Hubert en vue de la publication d'une importante étude sur l'illustre auteur par le jeune intellectuel français Armand Petitjean. Finalement, elle relate la réception de Joyce par les journalistes et auteurs luxembourgeois et montre comment le Grand-Duché avec ses rivières finira par peupler les pages du célèbre Finnegans Wake, publié en 1939.
From Tuesday 26.04.2022 to Saturday 10.09.2022
Content provided by Echo.lu – Content non-binding and subject to change.

To advertise your event (taking place in the capital) in our calendar, register all the information on Echo.lu and display it on our agenda.