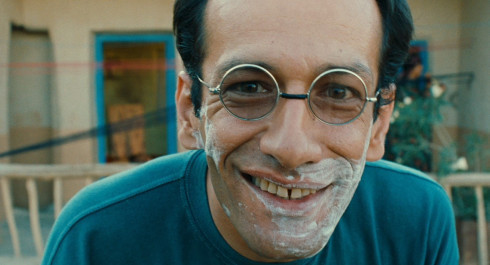 03.07.2023
The Wind Will Carry Us (Faces of Iran)
The Wind Will Carry Us (Faces of Iran)
The Wind Will Carry Us
Bad ma ra khahad bord Iran 1999 | Abbas Kiarostami | vostEN+DE | 118' | 35mm | Cast : Behzad Durani, Noghre Asadi, Roushan Karam Elmi
► Prix Fipresci, Venice 1999
A small group of people from the Tehran, most of them never seen on screen, arrive in a little Kurdish village with an unusual mission. They pretend to be communications engineers but in reality are waiting for the death of woman who is over 100.
« "Nothing happening" is everything happening between the lines, in the gap created between what is unstated onscreen and what we bring to the story ourselves. » (LA Weekly)
« If you are already an admirer of Mr. Kiarostami, The Wind Will Carry Us will confirm what you already know. But if you haven't yet encountered the work of a man many believe to be one of the giants of contemporary cinema, this is a good place to start. It's the funniest and most accessible of his films, and maybe the most visually arresting. His wide, clear landscapes will be fatally diminished, like old master paintings reproduced on postcards, if you see them on video. And the graceful adagio of his narrative rhythm may turn to tedium in the banality of your living room. The Wind Will Carry Us requires the reverent darkness and communal solitude of a theater. » (The New York Times)
« The Wind Will Carry Us, one of Kiarostami's greatest, bristles with secrecy, and much of its mystique is derived from the sensation that important information is being held just out of view. This is a deeply, patiently observational film, and the details Kiarostami emphasizes seem somehow profound in their banality, a mystery of ineffable beauty.» (Village Voice)
Monday 03.07.2023
20H30 - 22H30
| | |
| --- | --- |
| Tarif plein | 3.7 € |
| Tarif réduit | 2.4 € |
| Kulturpass | 1.5 € |
Content provided by Echo.lu – Content non-binding and subject to change.

To advertise your event (taking place in the capital) in our calendar, register all the information on Echo.lu and display it on our agenda.