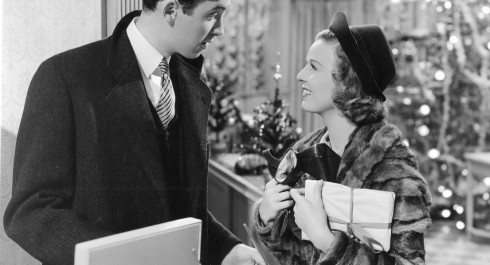 The Shop Around the Corner (Classics Before Christmas)
The Shop Around the Corner (Classics Before Christmas)
The Shop Around the Corner
USA 1940 | vostf | 98' | De : Ernst Lubitsch | Avec : Margaret Sullavan, James Stewart,
Frank Morgan | D'après : la pièce de Miklós László
Dans une modeste maroquinerie hongroise, le chef vendeur correspond anonymement avec la petite vendeuse Klara. Il découvre l'identité de sa « chère inconnue ». Stupéfait, il cherche un moyen de se faire aimer par elle, sans lui révéler qui il est…
« It's a marvelously delicate romantic comedy, finally very moving. » (Time Out Film Guide)
« Toujours en équilibre sur le fil qui sépare humour et émotion, The Shop Around the Corner est une des plus parfaites réussites de la période américaine de Lubitsch. Son succès ne s'est d'ailleurs jamais démenti et il est devenu un classique parmi les classiques (sélectionné aux USA par la Library of Congress dans la liste du patrimoine à conserver). » (àVoir-àLire.com)
« Autour d'une boîte à cigares musicale, quiproquos et marivaudage se teintent de mélancolie. Et sans rien perdre de sa grâce ni de sa drôlerie, le petit monde de Lubitsch laisse poindre parfois qui son angoisse, qui sa détresse, qui sa solitude. C'est sublime. » (Le Guide du cinéma, Éd. Télérama)
Content provided by Echo.lu – Content non-binding and subject to change.

To advertise your event (taking place in the capital) in our calendar, register all the information on Echo.lu and display it on our agenda.