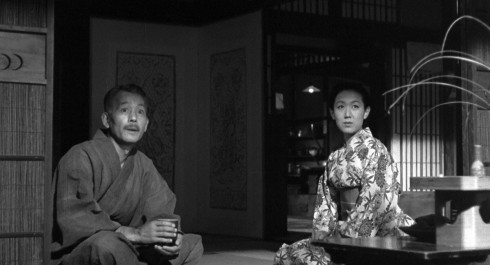 04.12.2023
The Moon Has Risen (Kinuyo Tanaka)
The Moon Has Risen (Kinuyo Tanaka)
In collaboration with sakecompany.lu
La séance sera suivie d'un « sake tasting » sur présentation du billet d'entrée. Tarif spécial : €7,50.
The Moon Has Risen
Tsuki wa noborinu Japon 1955 | Kinuyo Tanaka | vostFR+EN | 103' | digital | Cast : Chishu Ryu, Shuji Sano, Hisako Yamane, Yoko Sugi
In this Ozu-scripted romantic comedy, Ayako lives with her younger sister, Setsuko, in Japan's ancient capital, Nara. During late autumn, their aunt is worried about Ayako's marriage prospects as she grows older. So she tries to set Ayako up with a bank manager's son. But Setsuko is determined not to see her sister enter into an unhappy marriage, so she tries to play matchmaker on her own…
« Le scénario a été écrit en 1947 par Yasujiro Ozu qui pensait le tourner lui-même. De ce fait, le film de Tanaka montre une influence marquée, on retrouve l'atmosphère des films d'Ozu et ses thèmes de prédilection : la famille, le mariage. Elle a su toutefois apporter une touche féminine, surtout dans les détails quotidiens. La Lune s'est levée parle de l'éveil à l'amour, de la difficulté à exprimer ses sentiments dans un cadre social assez rigide. » (L'Œil sur l'écran)
« Critics have noted Ozu's influence in the film, particularly in the use of the director's distinctive "pillow shots," the mise en scène of domestic spaces and the casting of Chishu Ryu — one of Ozu's regulars, who plays the father. But Tanaka's controlled direction of her performers and the lively, elegant rhythm are entirely her own. Tanaka also appears in the film alongside Mie Kitahara, the future It Girl of the Nikkatsu studio, who echoes the director's characteristic fast and snappy acting style. » (Film at Lincoln Center)
Monday 04.12.2023
18H30 - 20H15
| | |
| --- | --- |
| Tarif spécial (avec boisson) | 7.5 € |
| Kulturpass (sans boisson) | 1.5 € |
Content provided by Echo.lu – Content non-binding and subject to change.

To advertise your event (taking place in the capital) in our calendar, register all the information on Echo.lu and display it on our agenda.