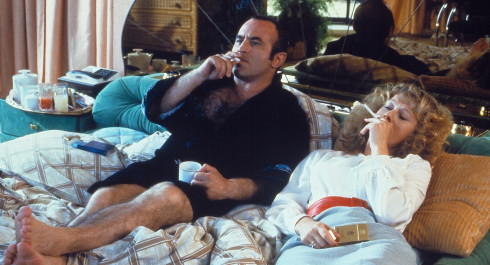 The Long Good Friday (Mafiosi & Mobster Movies)
The Long Good Friday (Mafiosi & Mobster Movies)
The Long Good Friday

Royaume-Uni 1982 | vostf | 113' | c | De : John Mackenzie | Avec : Bob Hoskins, Helen Mirren, Eddie Constantine
Harold, un gangster anglais prospère, s'apprête à régler un marché très rentable quand une série de bombes explose le plaçant dans une situation très délicate. Un mystérieux syndicat tente de se mettre en travers de son chemin, et Harold va tenter de trouver son identité...
« A gangster flick with ferocious intelligence, tight plotting and razor-edged thrills. » (Rotten Tomatoes)
« This movie is one amazing piece of work, not only for the Hoskins performance but also for the energy of the filmmaking, the power of the music, and, oddly enough, for the engaging quality of its sometimes very violent sense of humor. » (Roger Ebert)
« John Mackenzie's gangster classic holds up as a searing portrait of a Britain approaching Thatcherism and seems to foresee London's rampant redevelopment. » (BFI)
« Bob Hoskins délivre une prestation énorme, digne du James Cagney de White Heat. » (DVDClassik.com)
Content provided by Echo.lu – Content non-binding and subject to change.

To advertise your event (taking place in the capital) in our calendar, register all the information on Echo.lu and display it on our agenda.