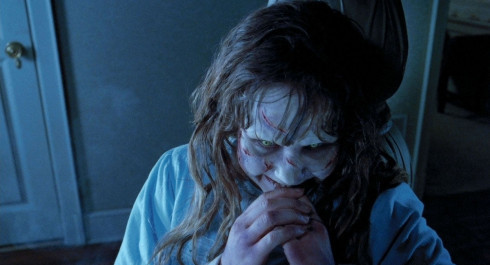 08.12.2023
The Exorcist (Director's Cut) (William Friedkin)
The Exorcist (Director's Cut) (William Friedkin)
The Exorcist (Director's Cut)
USA 1973/2000 | William Friedkin | vostFR+DE | 132' | 35mm | Cast: Ellen Burstyn, Max von Sydow, Linda Blair | D'après : le roman de William Peter Blatty
> Best Adapted Screenplay, Best Sound; Oscars 1974
When 12-year-old Regan starts acting odd -- levitating, speaking in tongues -- her worried mother seeks medical help, only to hit a dead end. A local priest thinks the girl may be seized by the devil and suggests an exorcism. The church sends in an expert to help...
« A classic, endlessly parodied, very familiar – and it's as utterly horrifying as it was the day it came out. That room – the cold, the purple light, the demonic transformations: it really haunts you. » (Martin Scorsese)
« The effect of the added footage is to enrich and deepen a movie which is all about atmosphere in the first place. Even better, the sound, which has always obsessed Friedkin, now comes at you from all angles. From dog fights to rustling leaves, every nuance of noise contains the power to disturb. The Exorcist, in any form, is not about cheap shocks or easy thrills. Sneak into a quiet, late night screening, give yourself over to it, believe, and you will be terrified. » (Empire)
« Quelque chose de dévorant et d'irréductible à la simple artificialité du fantastique traverse le film, la certitude que le Mal existe et qu'il peut s'incarner au cœur même d'un foyer tranquille. » (Libération)
Friday 08.12.2023
20H30 - 22H45
| | |
| --- | --- |
| Tarif plein | 3.7 € |
| Tarif réduit | 2.4 € |
| Kulturpass | 1.5 € |
Content provided by Echo.lu – Content non-binding and subject to change.

To advertise your event (taking place in the capital) in our calendar, register all the information on Echo.lu and display it on our agenda.