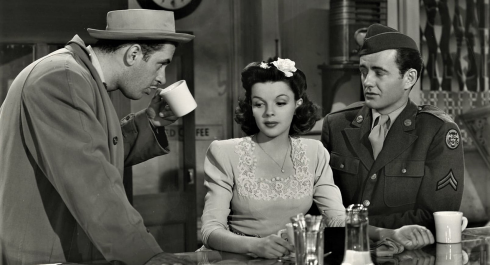 The Clock (Rétrospective Judy Garland)
The Clock (Rétrospective Judy Garland)
The Clock
USA 1945 | vostf | 89' | De : Vincente Minnelli | Avec : Judy Garland, Robert Walker, James Gleason
Le soldat Joe Allen profite de sa permission de 24 heures à New York, où il rencontre Alice. Elle accepte de lui faire visiter la ville et ils passent toute la journée ensemble. Malgré le peu de temps qu'ils ont, l'amour les rattrape rapidement ; ils décident alors de se marier avant le départ de Joe.
« Commencé par Fred Zinnemann, le film fut repris par Minnelli. On sent bien son influence dans la sensibilité et la tendresse inquiète du film. Malgré un tournage en studios, cette love story témoigne de réalisme et d'authenticité, surtout dans l'errance nocturne de Joe et Alice. Ce beau moment annonce l'admirable promenade musicale de Fred Astraire et Cyd Charisse dans Tous en scène. » (Le Guide du cinéma, Éd. Télérama)
« This rapturous wartime romance, starring Judy Garland and Robert Walker, is also a rowdy and tender paean to the liberating vitality of New York's public life and its chance encounters. » (The New Yorker)
« Director Vincente Minnelli's talents are so many-sided and generous that he turns even the most over-contrived romanticism into something memorable. » (Time Magazine)
Content provided by Echo.lu – Content non-binding and subject to change.

To advertise your event (taking place in the capital) in our calendar, register all the information on Echo.lu and display it on our agenda.