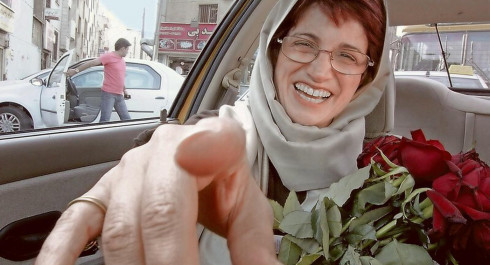 07.07.2023
Taxi Téhéran (Faces of Iran)
Taxi Téhéran (Faces of Iran)
Taxi Téhéran
Taxi Iran 2015 | Jafar Panahi | vostFR | 82' | digital | Cast : Jafar Panahi,
►Goldener Bär, Berlin 2015
Trois caméras placées dans le taxi et des acteurs, amateurs, amis, dont les noms ne sont pas mentionnés au générique, en guise de maigre protection contre la répression. Tour à tour, le siège passager ou la banquette arrière accueillent les conversations d'habitants de Téhéran.
« Cette façon subtile de brosser un portrait de la société, sans bons ni méchants, attise la curiosité des occidentaux depuis Une Séparation. Taxi Téhéran, Ours d'or comme le film d'Asghar Farhadi, procède de la même volonté de refléter l'Iran dans sa finesse et sa complexité. » (20 Minutes)
« Son humanité profonde, souvent ludique, parfois tragique, combinée à un sens de l'humour habile et touchant, confère à Taxi Téhéran une tonalité véritablement singulière, qui suffit à faire de lui une réussite. » (Time Out Paris)
« Cet humour mordant constitue le meilleur des "véhicules" pour les messages que le cinéaste délivre, dénonçant avec malice les hypocrisies et contradictions de l'Iran d'aujourd'hui. » (La Croix)
« Cette tension entre fiction et réalité contribue à l'aspect vivant du film, à son suspense latent et permanent : on est embedded dans un tournage à risques. » (Les Inrockuptibles)
Friday 07.07.2023
18H30 - 20H00
| | |
| --- | --- |
| Tarif plein | 3.7 € |
| Tarif réduit | 2.4 € |
| Kulturpass | 1.5 € |
Content provided by Echo.lu – Content non-binding and subject to change.

To advertise your event (taking place in the capital) in our calendar, register all the information on Echo.lu and display it on our agenda.