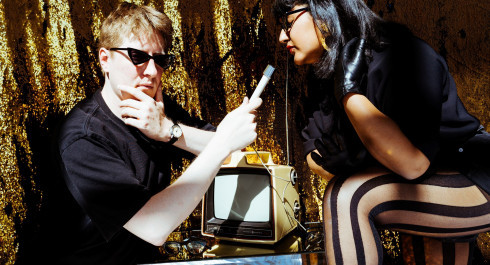 Sweeping Promises are cancelling their EU/UK tour dates, including their stop in Luxembourg. Ticketholders will be contacted personally. You can read the band's statement on Facebook.
Thirteen years ago, Caufield and Lira began making music in a small town in Arkansas. Over the subsequent decade, having relocated to Boston in 2012, the duo became serial band-starters on the East Coast underground. Their many DIY projects and releases established their thrifty and disciplined songwriting practice, known by few.
Sweeping Promises, their latest project, was born in a disused and reverberant concrete laboratory in Cambridge, MA. Tracked with a self-devised "single-mic technique" and mixed in mono, the band's debut
Hunger for a Way Out
was completed just in time to enter quarantine.
Angular guitars and sharp synth notes float atop a raw rhythm section, while Lira Mondal's effervescent vocals truly define Sweeping Promises' sound. There's something simple yet otherworldly about these tracks: You have the DIY prowess of Kleenex/LiLiPUT and Girls at Our Best!, a brooding new wave-y minimal synth sound woven in, and an undeniable pop-leaning appeal captured in vibrant monaural glory.
For fans of:
Bodega, Lithics, Automatic
Genre: Post-punk
Location: Klub
Price: Presale: 12€ + 1€ (fees) Doors: 15€
Label: USA, Sub Pop Records
Programme: Doors >20:00 Show >20:30
Links:
Content provided by Echo.lu – Content non-binding and subject to change.

To advertise your event (taking place in the capital) in our calendar, register all the information on Echo.lu and display it on our agenda.