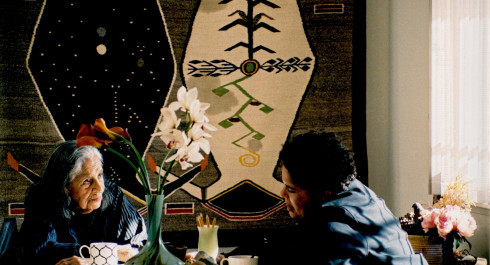 Since the early 1990s, Tacita Dean (b. 1965, Canterbury) has developed a singular body of work using multiple mediums, like film, photography and sound; drawing, printmaking and collage. Encompassing a diverse array of subjects, her work is characterised by a careful observation of time, a keen attention to history and a love of the fine details in life. Dean also welcomes chance as one of her guiding principles. A great believer in the non-deliberate act, Dean sometimes allows contingency, circumstance and accident to dictate the final outcome of a work. Since 2011, the artist's work has also had to deal with digital imaging eclipsing photochemical film and photography, a topic she has written and spoken about at length describing an exponential accumulation of images: 'A world that does not forget is a world that is drowning in its inability to forget.'
The East Gallery brings together the original artworks used in the stage sets for the ballet The Dante Project, which premiered at the Royal Opera House in London in October 2021.
Dean designed the sets and costumes for a ballet choreographed by Wayne McGregor (b. 1970, Stockport) with an original score by the composer Thomas Adès (b. 1971, London). The Dante Project is based on Dante Alighieri's (b. 1265, Florence – d. 1321, Ravenna) The Divine Comedy and staged in three parts, representing Dante's journey through the realms of the dead – Inferno, Purgatorio and Paradiso.
Using three distinct mediums – drawing, photography and film – for each act, Dean's set design moves from negative to positive, monochrome to colour and from representation to abstraction, plotting Dante's passage through the underworld. Inferno (2019) is the largest blackboard drawing Dean has made to date and depicts an inverted frozen mountain landscape in negative. Taking inspiration from the cold environment described by Dante, Dean conceived a versa...
Mudam Luxembourg – Musée d'Art Moderne Grand-Duc Jean
3 Park Dräi Eechelen
L-1499 LUXEMBOURG

From Saturday 09.07.2022 to Sunday 05.02.2023
| | |
| --- | --- |
| Erwachsene, Adults, Adultes | 8 € |
| Mittwoch 18h00–21h00, Wednesday 18h00–21h00, Mercredi 18h00–21h00 | 0 € |
| – 26 Jahre, Gruppen (min. 15 Personen), – 26 years & groups (min. 15 persons), – 26 ans & groupes (min. 15 personnes) | 5 € |
| Kulturpass, Kulturpass, Kulturpass | 0 € |
| – 21 Jahre, – 21 years, – 21 ans | 0 € |
| Studierende – 26 Jahre, Students – 26 years, Etudiants – 26 ans | 0 € |
Content provided by Echo.lu – Content non-binding and subject to change.

To advertise your event (taking place in the capital) in our calendar, register all the information on Echo.lu and display it on our agenda.